SVA Killer Work student feedback Summer 2015
Howdy!
The School of Visual Arts (SVA) Summer semester of "Killer Work: How to Make Ideas that Make Other People Jealous" was a lot of fun and a great success!
Here are a few students' feedback from this Summer's class. If you want to understand a little more about the class and how I teach, see SVA Spring 2015 post. Hope to see you in the fall!
On a 1-5 scale, my 'Killer Work' experience was a 5. It was my first advertising course and it was awesome. I've been contemplating copy writing as a profession and it helped me nurture the creative parts of my brain that I've been neglecting for a while. It also taught me that I really like this work!
M. Jostel, Art Director, Rodolfo, Stockholm
This is a great course either if you're totally new to creative advertising or have been doing it for a while. It's for anyone looking to get his or her creative mindset going. The best way to learn is by doing, and the Killer Work class is all about doing. The next best way to learn and develop is to receive valuable feedback – which Mark thoroughly delivered every week together with the peers of the class. To me, that's how you get the most out of your experience: work hard, put in the effort, and receive the tools and feedback to go back and make it even better. Mark was a great, kind and valuable teacher who made me want to do my best each week.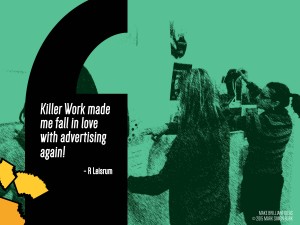 L McCann, Project Manager Droga5
This class was a 5 (out of 5)! My experience with idea generation and writing had been, let's say, majorly boxed in before your class. While thrilling, it was certainly a challenge to do a 180 on how I approach thinking, And I got a taste of what this role in the industry demands. But I loved every minute of it. Thank you for an amazing 10 weeks.
T Laurendi, CW Barker Advertising
Killer Work was a 5 (out of 5). This class helps you get out of your creative shell. I got better at concepting, not just writing headlines and taglines, but finding real human insights to guide the development of an idea.