SVA "Killer Work" Fall Student Feedback
We had a fantastic fall in Killer Work here at School of Visual Arts. We got to work on Peloton, Zagg screen protector, Somabar, Mr. Clean Magic Eraser and Pivothead wearable video. A great bunch of minds and an especially supportive and giving group. I'm looking forward to the winter session of SVA's 'Killer Work: How to Make Ideas that Make Other People Jealous'.
A quick nutshell on 'Killer Work'. 
My goal is to have you leave with a foundation for thinking, so no matter the assignment or circumstances ("Give me five great ideas by tomorrow!!) you'll have the tools you need to make brilliant ideas. The class focuses on teaching you a method for coming up with ideas that you adapt to your own style. You'll learn how to jumpstart your thinking, how to create lots of ideas super efficiently, and how to develop the best of them into brilliant executions.
Here's some feedback from the class. If you want more, troll through past Killer Work semester posts.
A Lisa, senior copywriter for Prudential Annuities
Finally, I have a meaningful and workable approach to developing concepts. Great ideas don't just happen. I now have a roadmap for navigating the processes of research, brainstorming and executing, as well as how to evaluate the difference between my ideas. For me, the method absolutely yields great results.
Not only was the knowledge I learned invaluable to my career, I thoroughly enjoyed my Wednesday evenings! Mark is energetic, brilliant, funny, enthusiastic and encouraging — it made my 3 hour commute to class worth every minute!
I would have every creative person I know take this class. It will up their game tenfold. Even a seasoned creative already doing great work would hugely benefit from Mark's expertise.
Truly, it was an honor to work with someone like Mark, whose life, educational and creative experience is beyond expansive. He truly loves what he does; it is clearly his passion. And even though Mark is in a league of very few, he was so down to earth and easy to talk to… no ego whatsoever.
J Lang,  Project management at small agency
What were the most valuable things you took away about your own process? 

Learning how to differentiate between concepts, ideas, and executions, and understanding where they all come from (obviously, haven't mastered this skill yet) It was so interesting to hear you dissect our thought processes; that every product has its own insights, every problem has many solutionsand that what's inside can be surprisingly delicious.
Keeping your mind open when you're developing ideas is a key way you learn to think in this class, not just about the work, but in life.
What change or addition would you suggest that might make this class a better experience?
I think it was great from the beginning, you just let us dive right in with our take
on the product.  It might have been helpful to show your thinking stages diagram and do some of the thought exercises earlier on.
Would you recommend 'Killer Work' to other students?
Yes! It is a humbling experience to understand how we all think differently and how magical it is when great ideas to come together. 

E Kelly, Designer/Art Director
I recommend this class to anyone interested in the creative process. This class pushed me to create ideas and do better work.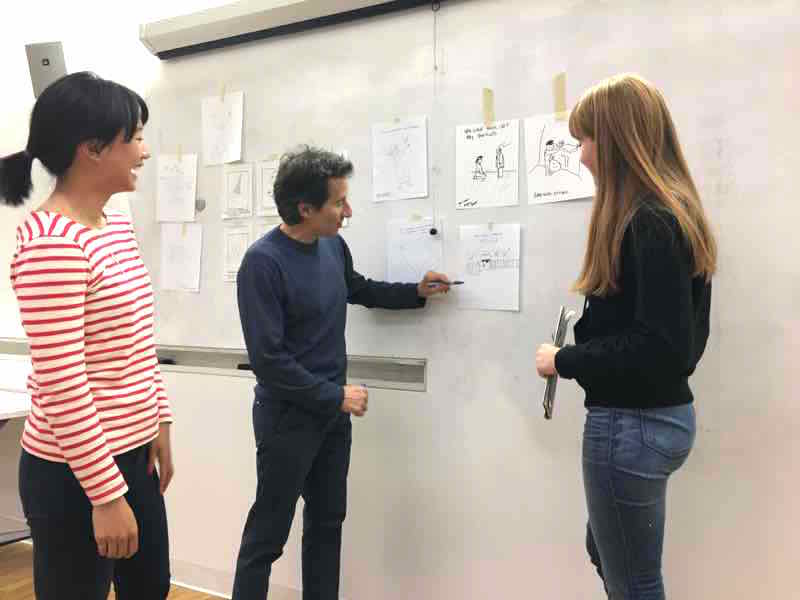 What were some valuable things you've taken away about your own process?
I learned how I work best and how to  push myself further. Mark's feedback in class really helped me see how I need to take myself beyond my own limits.)
What change or addition would you suggest that might make this class a better experience?

I think at the beginning of the semester there should be one or two small in-class group projectsto get a feel for the idea process.
Would you recommend 'Killer Work' to other students?
I definitely recommend this class to anyone who wants to learn about the creative process and what works for them, but you have to have a strong personal motivation. I got so much out of this class because I wanted to work on my own time.
Mark, thank you so, so much for a great class.