The night I took a steam with Mick Jagger and what he taught me about advertising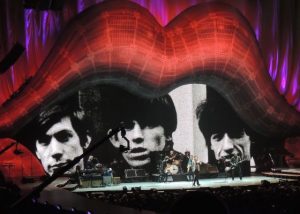 I just found a painter's cap I wore years ago that was signed by Mick Jagger.
When I was putting my portfolio together to get into advertising, I took a job as a tennis pro in a Chicago club to make ends meet. Whenever I wasn't on the court I was working on my portfolio. I'd hit a wall and was desperate for inspiration. There were no ad schools in Chicago back then. I took my learning wherever I could get it. One night I came off the courts late. The club was closed, the members long gone. When I turned the corner to the row of my locker, a massive guy blocked my path. He turned out to be Mick Jagger's bodyguard-trainer. I knew this because standing behind him, in his underwear, was Mick Jagger. The Stones were in town. The two of them had just finished a work-out.
A more gregarious person would have embraced the moment, but honestly I didn't even know where to look. I politely retreated to the steam room. I got the steam cranking and was just settling in when the door opened and the two of them strolled in. What the hell do you say to Mick Jagger in a sauna? I had no practice at something like this.
So I said some kind of blah blah blah, and then I asked him, "How do you write songs?"
The instant I said it, I knew it was a dumb-ass question.
A few agonizing seconds went by. I couldn't see his face through the steam. Was he rolling his eyes, mustering up the energy to give some kind of response?
Then, without any trace of annoyance, he said, "I don't write songs. I tell stories." He paused, as if to consider further, and said, "…. using poems that I put musical notes behind. That's what they are. Little stories with music." Of course they are. Little stories. I knew that! Who wouldn't?!
But that moment re-framed things for me in my own work. Of course! Just tell a great little story around the problem that needs solving. Or tell a story that reveals a human behavior or sheds an interesting light on the product or the world that surrounds it.
And so I started over. I changed everything. Hours and hours of work.
I told lots of little stories. One TV spot for a silver polish went over great because of the story's payoff. A knight shines and shines his armor to get the attention of the damsels of the court. Which he does – lots of flirtatious smiles. But when he smiles back to one of them, we reveal a set of really gnarly yellowed British teeth. Five weeks later I started my first job at FCB.
So I'm giving Mr. Jagger a long overdue thanks for his insight, for helping me get my first job, and for letting me hang out with him in a sauna.